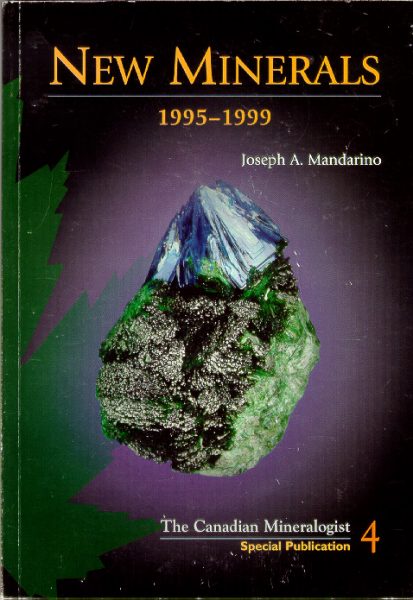 Special Publication Volume 4
By Joseph A. Mandarino
A collection of standardized descriptions for all of the mineral species approved by the International Mineralogical Association (IMA) between 1995 and 1999. This includes:
Discovery location
Occurrence
General appearance
Physical, chemical and crystallographic properties
Origin of the name
Author Joe Mandarino has abstracted information from 23 different journals, verified it, and expanded upon it, including previously unpublished information taken from reports submitted to the IMA.
Softcover. 280 pages. 2001.

MAC Member Price: $16 CAD/USD
Publication Price
$20.00

CAD/USD
Description
New Minerals 1995-1999
Akimotoite Alumoklyuchevskite Ancylite-(La) Androsite-(La) Andyrobertsite Artroeite Averievite Babkinite Baksanite Bamfordite Bariosincosite Barquillite Bechererite Bederite Belovite-(La) Benauite Benyacarite Berezanskite Bismutopyrochlore Blatonite Bleasdaleite Boralsilite Brendelite Brianroulstonite Calcio-andyrobertsite Calcioaravaipaite Calcioburbankite Caoxite Caresite Chadwickite Changchengite Changoite Charmarite Chengdeite Chlorartinite Chloromenite Chrisstanleyite Christelite Chrombismite Chromphyllite Clerite Clinoatacamite Clinocervantite Cobaltlotharmeyerite Coparsite Coskrenite-(Ce) Cuboargyrite Damiaoite Deliensite Deloneite-(Ce) Dessauite Dozyite Dusmatovite Dzharkenite Esperanzaite Feinglosite Ferroaluminoceladonite Ferroceladonite Ferrokinoshitalite Ferronordite-(Ce) Ferrorhodsite Ferrotitanowodginite Fettelite Fianelite Fluorcaphite Fluorocannilloite Fluoro-ferroleakeite Fluorthalénite-(Y) Formicaite Frankamenite Frankhawthorneite Galileiite Gallobeudantite Gaotaiite Georgbokiite Georgeericksenite Gerenite-(Y) Gilmarite Gordaite Gottardiite Graeserite Grattarolaite Grumiplucite Gwihabaite Haggertyite Haigerachite Hanawaltite Hechtsbergite Hexaferrum Hiarneite Horvathite-(Y) Hydrowoodwardite Hydroxylclinohumite Hyttsjoite Ilinskite Iltisite Intersilite Isolueshite Isovite Itoigawaite Jachymovite Jankovicite Jedwabite Jensenite Jentschite Jorgensenite Juabite Juonniite Kalifersite Kastningite Kenhsuite Kentbrooksite Khaidarkanite Khmaralite Khomyakovite Kintoreite Koragoite Korobitsynite Krasnovite Kukharenkoite-(Ce) Kusachiite Kuzelite Kuzmenkoite Laforetite Leisingite Lemmleinite Lenaite Lesukite Lukechangite-(Ce) Magnesiocoulsonite Magnesiodumortierite Magnesiofoitite Mahnerite Malanite Manganokhomyakovite Manganonordite-(Ce) Mayingite Medenbachite Mereheadite Mereiterite Meurigite Mitryaevaite Morimotoite Mozgovaite Mutinaite Nabiasite Nafertisite Natroxalate Nchwaningite Nepskoeite Nezilovite Nickelphosphide Niedermayrite Nierite Niobocarbide Noélbensonite Normandite Odintsovite Oenite Okayamalite Oneillite Orlandiite Orthowalpurgite Oulankaite Owensite Palladodymite Parascorodite Parasibirskite Penobsquisite Peterbaylissite Philolithite Phosphoellenbergerite Phosphogartrellite Phosphovanadylite Piretite Polkanovite Potassic-ferrisdanagaite Potassicparagasite Pretulite Protoferro-anthophyllite Protomangano-ferro-anthophylite Pseudosinhalite Pushcharovskite Pyatenkoite-(Y) Quadratite Quintinite Rambergite Reederite-(Y) Rhodarsenide Rimkorolgite Rodolicoite Rosiaite Rossmanite Rubicline Sabelliite Saddlebackite Scainiite Scandiobabingtonite Schaferite Seidite-(Ce) Selwynite Shannonite Sheldrickite Shibkovite Shkatulkalite Sidpietersite Sigismundite Silvialite Simmonsite Smrkovecite Sodic-ferri-clinoferroholmquistite Sorosite Sphaerobismoite Springcreekite Stalderite Stanekite Stoppaniite Strontiomelane Studenitsite Sudovikovite Takedaite Ternesite Ternovite Terranovaite Thomasclarkite-(Y) Tschortnerite Tsugaruite Tungstibite Turkestanite Ungarettiite Utahite Varennesite Velikite Vergasovaite Viaeneite Vicanite-(Ce) Vlodavetsite Vuoriyarvite Wadalite Walfordite Wallkilldellite-(Fe) Wesselsite Wilhelmkleinite Wiluite Wooldridgeite Wupatkiite Xenotime-(Yb) Yixunite Yvonite Zajacite-(Ce) Zalesiite Zdenekite Zincohogbomite Zlatogorite